Tech Solutions and consulting for Proprietary Firms
Welcome to our prop firm setup and consulting services! If you are looking for technical solutions provider for prop trading firm, you have come to the right place. From front office to back office to violation detection – we got expert technical solutions for everything. With our extensive experience in the this industry, we provide expert guidance and tailored solutions to help you navigate the complexities of starting and managing a successful prop trading business.
Watch following helpful videos:
Design Samples
You can have a free theme that comes with the software subscription or you can choose premier theme for one-time additional cost or you can give us your own custom design and we will setup your dashboard with that.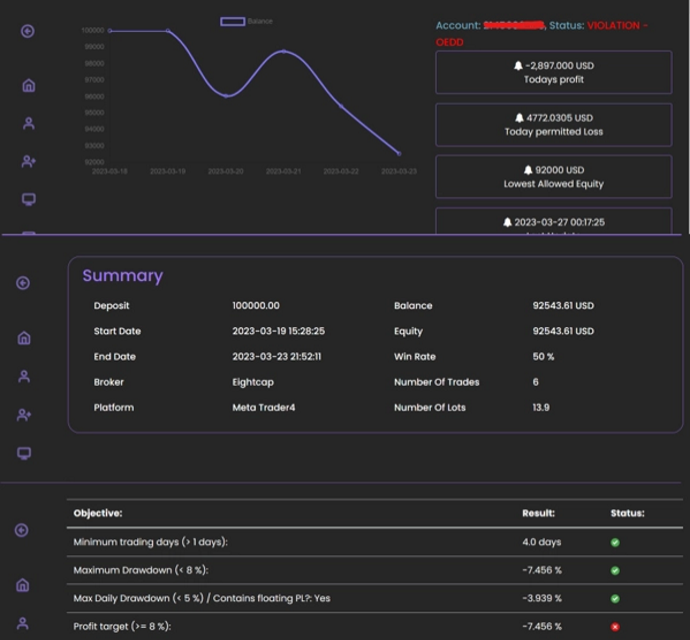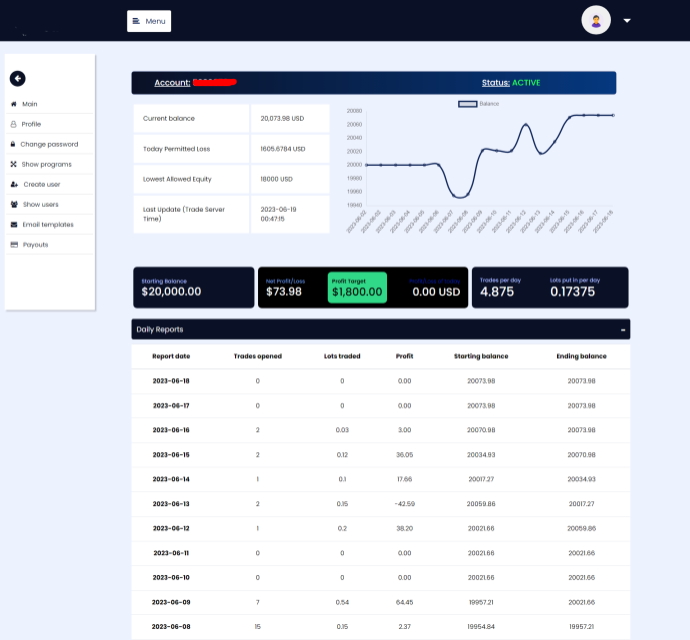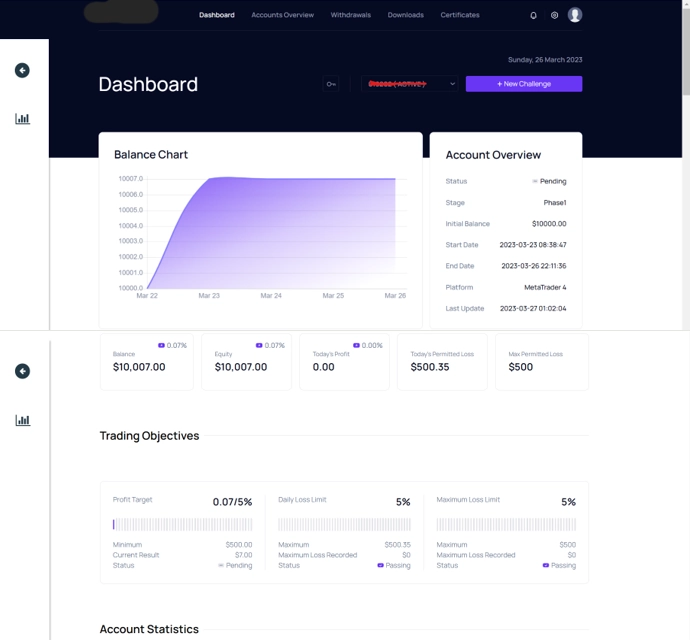 Our Services
Elevate Your Experience: Discover Our Comprehensive Range of Services
Our Approach
Unlocking Success: Our Unique Approach to Achieving Your Goals
Endorsements
Hear What Our Satisfied Customers Have to Say
List of URLs for reference
Valuable Resources: Explore Our Curated Collection of Reference URLs
Ryze funding Dashboard
Real Funding Program
GoTradr | Dashboard (gotradr.com)
Funding Forex Talents
Blue Hedge Capital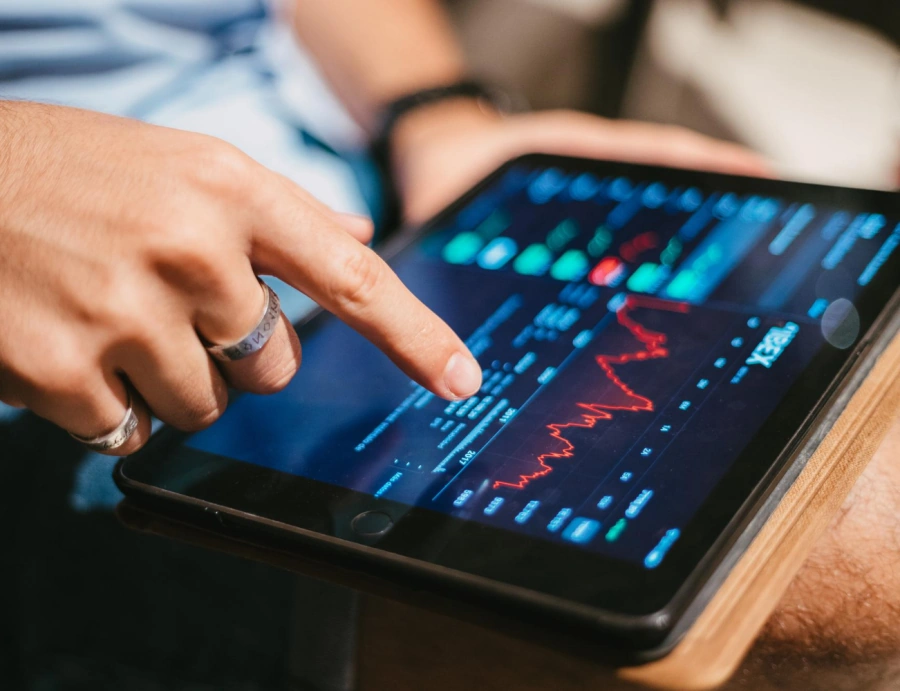 Design Samples
Go through the design samples of our product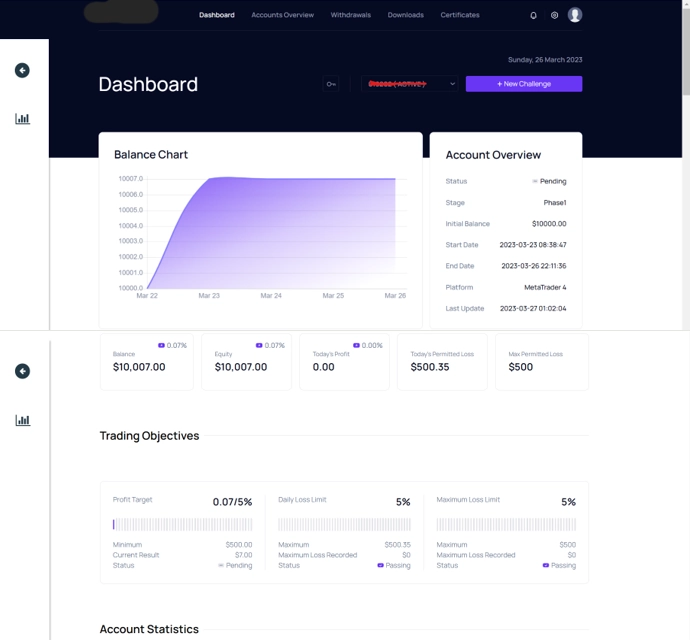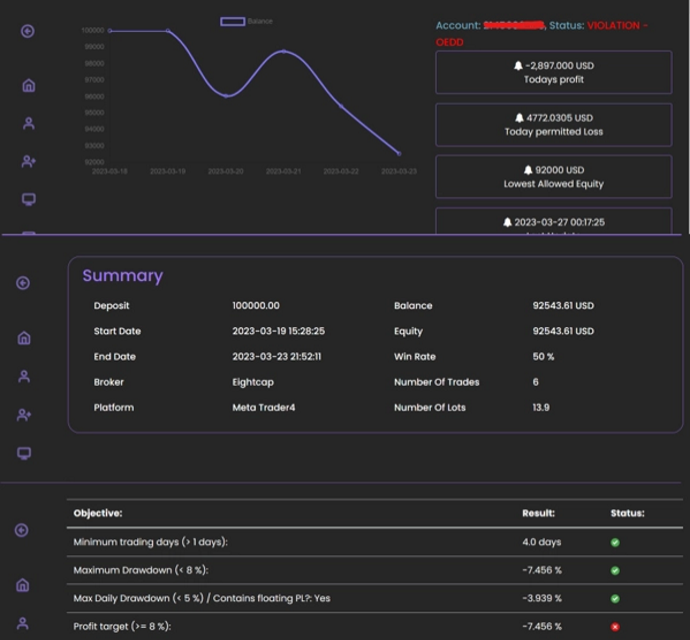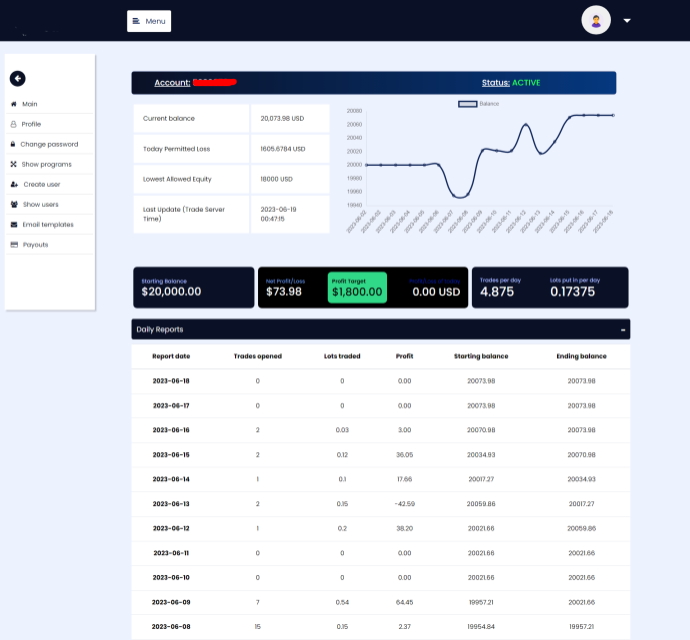 Some of the existing customer designs that we were able to incorporate in our software based on their request.
Key features of the software
1
Automatic account creation (manual mode is supported too)
With or Without manager access

As soon as traders purchase the challenge, user account as well as the trading account is created automatically, and user receives the credentials within minutes.
Ready integration with WooCommerce and Stripe
Software is built to integrate readily with WordPress Woocommerce plugin to automate the order processing flow.
Dashboard design can be customized easily.
Any HTML / CSS expert and PHP coder can customize the dashboard designs to match your existing website
Automatic violation detection and perform follow-up actions:
Send alert email to trader and admin

Close all open trades (possible only with manager access)

Make account read-only (possible only with manager access)
2
Things that impact implementation timeline
Onboarding process and timelines differ from customer to customer based on the following factors:

Do you have manager access to your broker?
This is the first and most critical question you need to answer. Manager access is nothing but a special access (jokingly we call it "God Level" access) which allows our software to create accounts, delete accounts, add / remove trades and much more for your trader accounts. This is expensive but highly recommended.

How many brokers will you be working with?
Usually a prop firm works with only one broker. But if you plan to work with multiple brokers, this will impact the setup timelines and costs. Our software can work with any number of brokers in the backend. More the brokers you use, complex is the setup leading to more time to setup and test the setup overall.

Account creation automation is needed?
Do you want software to create accounts automatically when traders purchase the challenges? If yes, we spend a bit more time in integration with your front office. If front office is in wordpress, well and good, it is quick but if you have other custom frontend, it may take more time and cost for integration.
What design you want for your dashboard?
This is the biggest time-consumer of all. If you want to use free theme or premier theme, the setup will be quick and less costly. However, if you want your own custom design, the setup will be that much more time consuming and costly. For small prop firms or new prop firms, we highly recommend you start off with a free or premier theme and then upgrade at a later point in time.
Broker option – OFB Fintech
Platform(s): MT4 MT5 | Accounts: Book B only | Feed: real market feed

Before go-live
$500 – setup fee – NON-REFUNDABLE

TBD – custom design charges (50% before and 50% after)

TBD – data migration from old platform to new (after data migration is done)

$550 for front end integration – in case you need special integrations that are not included in the software
After go-live
$500 per month minimum support and subscription fee

$4 per account per month on top of first 100 acc
Before go-live
After go-live
$1K per month per server (MT4 is one server and MT5 is one server) for unlimited accounts.
300 USD setup fee – NON-REFUNDABLE one time to start the setup. This will be V7 . About 2 weeks to complete as-is setup.
After go-live
 $400 USD per month for software and service maintenance fee

 This includes upto 100 new accounts for that month – account can be demo or live – same fee.

 Above 100 each account is charged at $4 per account per month no limit on accounts.
One-time integration setup fee of 400 USD if you want our help to do integration with wordpress or stripe or shopify any other front end website shopping cart.
If you need custom design, you need to pay extra.